Kassie Hanson

Agent

in Bismarck, ND
Associate Information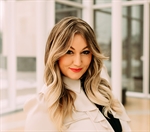 Professional Designations
AHWD, REALTOR
Expertise Types
Residential
As a born and raised crop farmer, I have experienced disciplined hard work since a young age, and I put that in everything I do in real estate today. My former career was in the beauty industry, where I ran a successful salon business for 16 years.
You could say the Real Estate Industry found me. After completing some house-flipping projects of my own, and falling in love with touring Open Houses, I saw my future with a new career change. At 37 weeks pregnant, I enrolled in real estate school at UND and became licensed. At this time, I had already begun professional photography, videography, content creating, and marketing new listings as an assistant for award winning Bismarck REALTOR®, Pam J Hanson.
My first career helped me advance my skills in artistry, educating, skills, problem-solving, and business communications. I developed a true passion for navigating people to their goals with active listening, exceptional professionalism, and a creative eye that will not stop! As a licensed REALTOR®, I will continue to grow and utilize my authentic skills while continuing my education in real estate licensing and certifications.
Our clients will always come before our interests. Together we have designed a system to make your real estate transactions simplified, fast, and efficient.
Sellers Mission: Net the most amount of money in the shortest amount of time, with the least amount of problems.
Buyers Mission: Find the right home, at the best price, in the shortest amount of time, with the least amount of problems.
Whether you're a seller, buyer, or investor, I understand a home is the center of our world. Let my honesty, savvy design skills, and vision guide you toward the next big life decision in real estate. Together we can cultivate better living for a higher return.